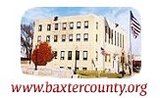 Email Us
Phone: (870) 481-5822
Fax: (870) 481-5822
Visit Our Site

9 Substation Place
Midway, Ar 72651

Baxter County Animal Control Facility

BAXTER COUNTY ANIMAL CONTROL FACILITY
Phone: (870) 481-5822
Email: bbaxter013@centurytel.net
Business Hours
Monday: 8:00 a.m. - 2:00 p.m.
Tuesday: 8:00 a.m. - 2:00 p.m.
Wednesday: 8:00 a.m. - 2:00 p.m.
Thursday: 8:00 a.m. - 2:00 p.m.
Friday: 8:00 a.m. - 2:00 p.m.



-----------------------------------
Directions to the Baxter County Animal Control Center. Take 126 to Substation Circle, just north of the yellow water tower. Turn onto Substation Road and go about 1/5 of a mile. The Animal Control building is on the right in a beige building.

Who We Are
The Baxter County Animal Control facility opened in July 2006. Under Arkansas law, animals must be kept for five (5) business days. Thereafter, they may be euthanized. Extremely sick or injured animals may be put down sooner, so they do not suffer. If you think your animal may have been picked up, please do not delay! Call Baxter County Animal Control Facility immediately at (870) 481-5822.

Animals are listed by their intake number. Breeds and estimated ages are given, but opinions differ on breed, breed mix, and age, so please look at all animals listed if your companion animal is missing. Locations of pick up are given, if available, and a photo will be posted whenever possible.

News
Local animal rescue groups are making every effort to save as many of the animals picked up by Baxter County Animal Control as possible. The animal loving citizens of Baxter County thank these groups for their assistance.

If you would like to adopt one of the animals pictured, please contact us at (870) 481-5822.

The top photo is a young adult, male, smooth coat collie mix. The bottom photo is an adult, female, tiger striped cat. She is currently nursing her litter of 5 kittens and a litter of 4 adopted babies.